12
May
Microsoft Ignite – Recap of Data Platform and BI sessions
Microsoft's first Ignite conference is a fact, and it was AWESOME!
Last week I (Dandy Weyn)  had the great opportunity of being at Ignite as a staffer to the Microsoft booth for both Data Platform and Business Intelligence.
Our very own DB Best's Sudhir Gajre had the opportunity of presenting on Migrating Databases to SQL Server 2014, BRK3574: Database Migrations "Done Right".
Even though this was the first Ignite event,  it was actually the first event I got to enjoy a conference without any form of involvement in any of the sessions. (I attended TechEd first time in Europe in 2000 and literally have only missed a few of the TechEd Europe and North America events since).
As a former technical product manager (my former role at Microsoft) that was deeply involved in sessions and speaker selections at previous events, I can attest, it takes a lot to put on an event like Ignite.  Months of preparation  in advance lead up to bringing you solid sessions and content to maximize your learning experience.
Congrats to the team that put this together on a JOB WELL DONE!
There certainly was no shortage of  excitement  as soon as Satya Nadella announced that SQL Server 2016 would go in preview this summer in the opening keynote session.
And wow! … the features that are coming certainly promised for an amazing experience and some sessions to look forward to.
Keynote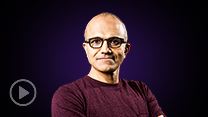 The keynote had no shortage of announcements, and it was great to see Satya Nadella on stage. I had the opportunity to see Satya in action at the launch of SQL Server 2014, and even way before I've been a big Satya fan.
The keynote was exceptionally well! I actually enjoyed it from the comfort of my hotel room while I was writing the blog on what's new in SQL Server 2016.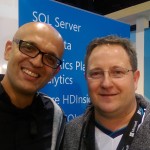 Satya is not to be confused with my friend Charley (@Charleyhanania) , pictured above.
Foundational Session
For the bigger tracks such as data platform, a foundational session sets a core foundation for what you get to see the rest of the week. Shawn Bice and team didn't disappoint in delivering a great view of the new features in SQL Server 2016, on which we'll drill down a bit more in this blog.
Session: FND1551: The SQL Server Evolution (Lindsey Allen, Rohan Kumar, Shawn Bice, Shawn Hansen)
Key highlights from this session: Announcements and details!
Stretch DB – allowing you to stretch a database between on-premises  and Cloud – see the session that Joe Young presented on below
In-Memory OLTP in SQL Server 2016 is getting more serious and even faster
Column store Indexing got even faster and also supports in-memory OLTP in SQL Server 2016
Query Store (query stores query cache and execution plans, which will significantly increase query performance)
Native JSON support (woohoo! They are getting serious)
Enhancements to Analysis Services making it Enterprise Grade
Enhancements to MDS and SSIS
Azure Virtual Machines templates allowing you to even deploy a fully integrated AlwaysOn scenario including domain controller, a really cool feature on which I will be writing a blog pretty soon.
 Always Encrypted
Embargoed sessions
Prior to making an announcement, it's important that the sessions that will drill down in detail on new features aren't published in advance.
The SQL Server Product Management team has done a great job by outlining these detailed session into a mini session guide that literally gets printed hot off the press.
Those are the sessions you want to look for when you want the latest and the greatest. That little session guide is typically available at the expo hall and was broadly distributed in the foundational session.
And there were plenty of those:
BRK2558: The SQL Server Evolution Deep Dive (Shawn Bice, Lindsey Allen, Rohan Kumar)
This more detailed session covers the new enhancements in SQL Server 2016:
Operational Analytics
in-Memory OLTP for more applications
Query Store
Always Encrypted
Row Level Security
Dynamic Data Masking
Enhanced Always On
3 synchronous replicas for auto failover cross-domain
DTC for transactional integrity across instances
Enhanced Online Operations
12TB RAM, 16 socket CPU Support
Temporal data
In database analytics with R-Integration
SQL Server, Data Platform Sessions
BRK3565: Next Step in Polybase with Dr. David Dewitt
While column store was already enabled in APS (Analytical Platform System), this feature will natively come in SQL Server 2016.
BRK4552: Operational Analytics in SQL Server (Sunil Agarwal)
BRK4555: In-Memory OLTP – The Road Ahead (Kevin Farlee, Sunil Agarwal)
BRK2570: Overview and Roadmap for Microsoft SQL Server Security (Jakub Szymaszek, Joachim Hammer)
This session goes into the details of row level security available in preview on Azure SQL Database and coming in SQL Server 2016.
BRK2573: Microsoft Azure SQL Database – New ISV Resource Pooling Model Drilldown: the What, Why and How (Morgan Oslake)
More breakout sessions on SQL Server
BRK4556: Columnstore Index: Microsoft SQL Server 2014 and Beyond (Sunil Agarwal)
BRK2585: Mission Critical SQL Server (Kun Cheng, Mike Weiner)
BRK1551: Microsoft SQL Server unplugged (Product team)
BRK2587: Temporal, Query Store and JSON Support in SQL Server (Borko Novakovic, Lindsey Allen)
View this session to get better understanding of how to work with temporal data,  and how to use JSON natively in SQL Server.
Cloud and Hybrid
BRK2571: Microsoft Azure SQL Database Warehouse (Shawn Hansen)
BRK2551: SELECT Latest FROM Microsoft Azure DocumentDB (John Macintyre)
BRK2574: Stretching On Premises-Databases to the Cloud (Joe Yong)
This provides the insights and details of Stretch DB.
BRK1550: Overview of Microsoft Analytics Platform System (Matt Usher)
BRK3569: Microsoft Analytics Platform System and Data Warehousing in the cloud (Matt Usher)
This session focuses on the latest announcement of DWAAS (Data Warehousing as a Service), now available on Windows Azure.
Business Intelligence, Big Data and Analytics
BRK2556: Microsoft BI Overview (John Doyle, Kamal Hathi, Sanjay Soni)
If you're looking for a session that gives you some insights into the capabilities and evolution of the Microsoft BI stack, the session above is one to review, you'll see my former colleague Sanjay Soni (@sqlbi101) in action, and he is highly energetic as usual. You'll also see a cool demo on the Datazen acquisition and learn how to position Datazen as part of the overall Microsoft BI offering.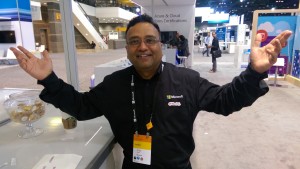 BRK2568: Power BI overview (Michael Tejedor)
In this session, Michael Tejedor gives a great overview of the Power BI capabilities and provides great insights on how to position and use Power BI, with a key focus on the Power BI Designer.
BRK2552: Microsoft SQL Server BI Drilldown (Mey Meenakshisundaram, Dean Ivankovich)
In this session Mey and Dean provide insights in to the Microsoft BI stack including Datazen.
BRK3564: What's next for Visualizations in Microsoft Office (Scott Ruble)
BRK3573: Advanced Modeling and Calculations Using the Microsoft Power BI Designer (Kasper de Jonge)
BRK3551: Power BI for developers (Josh Caplan, Lukasz Pawlowski)
BRK2578: What's new in Master Data Services (MDS) and Integration Services (SSIS) in SQL Server (Matt Masson)
BRK2562: Revolution Analytics joins Microsoft: Strange Bedfellows or a new Power Tool for Advanced Analytics (Bill Jacobs)
Internet of Things
BRK2572: Create the Internet of Things, The Microsoft Vision for IoT (Sam George)
BRK4554: Connecting your Devices to the Azure IoT Suite (Elio Damaggio)
So much more going on at Ignite
There was of course much more going  at Ignite when it came down to sessions on Data Platform and Business Intelligence / Analytics.
You'll find all the sessions on Channel 9 – right here.
Hands-on-labs
At TechEd 2003, I started working as a hands-on-labs proctor/ technical learning guide. While at that stage we were copying over a series of virtual machines  local computers,  it is just amazing how the hands on experience at events like Ignite became a core opportunity for attendees to try out the technology on fully hosted platform that had over 16,000 lab launches supported by my good friends and fellow Microsoft Certified Trainers (75 of them!).

Great job Learn on Demand Systems.
It just amazes my how busy we all get, an how little time is actually left to catch up with good friends and people I've enjoyed working with.
 It's lunch time
Can you imagine what it takes to feed 25,000 people at the same time?  That's right, think about long lines, lots of people 🙂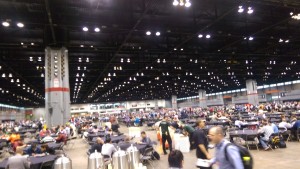 Thank you!
There are so many people I have to say thank you to for sharing their insights, and the great conversations I've had post sessions or at the booth, in random order:
Dawn Conner, Tiffany Wissner, Jennifer Moser, Denny Cherry, Victor Isakov, Kasper de Jonge, Sunil Agarwal, Kevin Farlee, Sanjay Soni, Kamal Hathi, Yvonne Haarloev, Shawn Bice, Syam Nair, Joe Yong, Luis Carlos Vergas Herring, Amit Bansal, boB Taylor, Tracy Daugherty, Torsten Grabs, Simon Sabin, Mary Branscombe, Siebren Kerkstra, Marco Timmermans, Ernst Rijk, Ross LoForte, Sudhir Gajre, Andrew  Brust, Lindsey Allen,  Argenis Fernandez, Jesús Gil Velasco, Luan Moreno, Debbi Lyons, Darmadi Komo, Michael Tejedor, Jimmy May, Lukasz Pawlowski,  Marco Russo,  Marko Hotti, Jen Stirrup, Peter Myers, John Doyle, Nishant Thacker, Seayoung Rhee, Corey Hynes (for finding my lost badge that is), and so many others! Thank you so much , I look forward to future opportunities working with all of you.
See you next year in Chicago!