16
Mar
@SQLSoldier interpretive dance at Summit
What started as some funny comments about @SQLSoldier doing an interpretive dance has rolled into a great initiative as additional support to the fundraising for my cousin Gunnar.
And it looks like he was serious about his commitment to an interpretive dance at PASS Summit 2015 if the fundraiser reaches $5000, and I will gladly join him in a suitable outfit.

About my cousin …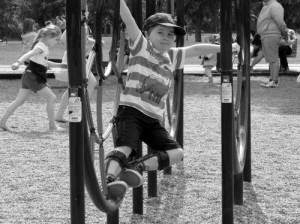 When my cousin Gunnar was born, he was a lot like me, .. a cute little boy, having the world in front of him with many opportunities and big dreams coming along.
Actually, not that very surprisingly my very own children think it's a picture of their "papa" whenever they see Gunnar on our computer.
In every single way, Gunnar is like the little boy next doors, that wants to play, have fun, and live a careless and worry-free life.
Shorthly after Gunnar was born, he was diagnosed with Duchenne Muscular Dystrophy.
Duchenne muscular dystrophy (DMD) is a recessive X-linked form of muscular dystrophy, affecting around 1 in 3,600 males, which results in muscle degeneration and eventual death.
The medical needs .. walk a mile in his shoes
Electrical Wheelchair / Bicycle
As Duchenne progresses, Gunnar will have it more difficult to walk. Hiking is something our entire family absolutely loves. In the short term he really needs to get a powered electrical wheelchair or bicycle, which is seriously expensive.